Few Condo Complexes In Connecticut Are FHA Certified Leaving Many Unable To Purchase Or Take Out Reverse Mortgages
While the Federal Housing Administration has loosened its eligibility rules, not many buyers and sellers in Connecticut will be able to benefit from them.
A check of FHA approved complexes shows that in West Hartford there is only one complex that is FHA certified and therefore eligible for low down-payment mortgages.
There are dozens of complexes in West Hartford ranging from inexpensive ones less than $20,000 to those approaching one million dollars.
But the only one that is FHA certified is the moderately priced  Copper Beech complex where two bedroom condos goes for about $190,000.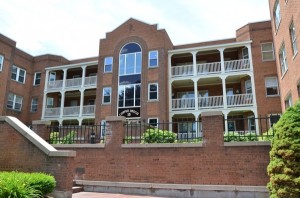 (In full disclosure I own a condo at the Copper Beech).
And, according to real estate agent Mollie Abend, it has been only a few months since Copper Beech has been FHA certified.
Abend, who specializes in homes in West Hartford and the West End of Hartford, says the complex was re certified at the request of one of her clients who was selling her unit.
Many complexes, she said, don't want to bother with having FHA certification because of the paperwork and cost.
And at least in one West Hartford complex, the board of directors voted against seeking recertification fearing that it will open the doors to less financially able buyers. At some complexes, boards don't want younger people purchasing units because they are nervous of having too much noise and other issues.
"That is short-sighted," said Abend, as it reduces the pool of potential buyers. Most condo buyers are either just starting out or are downsizing.
According to real estate columnist Kenneth R. Harney the new rules that went into effect last week replace one that resulted in most condos no longer being eligible for low-down payment FHA guaranteed loans or for reverse mortgages.
 "As a direct result of the previous FHA rules, just 2,100 of the estimated 25,000 condominium projects nationwide that were eligible for unit financing were recertified by late last year, according to the agency. Insurance volume also has plummeted. FHA estimated that it would insure 110,000 condo unit loans during fiscal 2012, which ends this month. But by July, it had only insured 35,433 units," he
wrote in his latest column
in the Washington Post.
"Though the previous rules focused on entire buildings, individual unit owners seeking to sell often have taken the brunt. Last year, one townhouse owner in Calabasas, Calif., Ryan O'Quinn, described his experience with his community's failure to gain FHA certification as "a nightmare." He lost four signed sales offers and had to cut the asking price on his condo by $81,000 because most buyers wanted to use FHA loans. Andrew Fortin, vice president of government affairs for Associa, a condo and homeowner association management firm based in Dallas, said he saw condos last week in the Tampa area that could no longer be financed with FHA mortgages and are now selling for $15,000, all-cash."
You can here https://entp.hud.gov/idapp/html/condlook.cfm to learn if a condo complex is certified by FHA.