Victoria's Secret Model Sues Condo Board Claiming Water and Mold Damage Makes Unit Uninhabitable
Water and mold damage don't only happen to Connecticut, they can happen in luxury Manhattan apartments where boards and management companies can be just as derelict.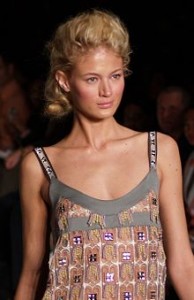 Victoria's Secret covergirl Michelle Buswell has filed a $300,000 suit claiming her $1.3 million Chelsea condominium has been uninhabitable because of water leaks gone uncorrected for almost two years.
"Buswell, 29, who has sashayed down catwalks in New York, Paris and Milan, said her luxury pad in the Grand Chelsea on West 17th Street has endured flooding from October 2011 to the present, causing toxic levels of mold to accumulate," writes DNAinfo.
"The problem was so bad that on June 11 a spore specialist who inspected Buswell's apartment advised her "that given the hazardous mold contamination, she should vacate the unit as soon as possible," according to her lawsuit filed Wednesday in Manhattan Supreme Court. The mold build-up included "various fungi, bacteria, mycotoxins, endotoxins, and other toxic, dangerous, allergenic or unhealthful and harmful substances," the lawsuit said.