Look Up Complaints Against Connecticut Condo Property Managers Here
Does your property manager have a history of complaints filed against it with the Connecticut Consumer Protection Department? Well if they have you can now look it up right here.  If you would like to have details about a complaint please send me an email specifying the case; george@ctcondonews.com
The data consisting of three years of complaints was provided by the state at the request of CtCondoNews as several condo boards and owners have asked where such information could be found.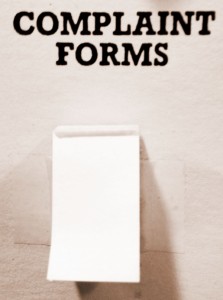 Now for some cautionary language here. This list is just a starting point for your research. If you want to dig deeper, file a complaint with the state Consumer Protection department and request a copy copy of a complaint file under the state Freedom of Information Act. A copy might cost you a small amount.
Just because complaints were filed against a property manager it doesn't necessary mean that they did anything wrong.
If the complaint was dismissed it doesn't mean that the complaint was not valid, it may mean that the state was powerless to do anything about it. Connecticut condo owners have the least legal rights compared to most other states.
And, if there are no complaints filed against a managerment firm it also doesn't mean anything.
This is the latest list of all property managers registered in Connecticut.