ABOUT Ct Condo News
CTCondoNews.com is the first website of its kind – providing exclusively condo stories and investigations into complaints on a state-wide basis.
Working together with the Connecticut Condo Owners Coalition, the only group that represents condo owners in the state, the site will inform owners of condos, homes in 55+ communities, and those with timeshares and vacation homes about issues their fellow owners are having, calling out property management companies and boards of directors who are not serving properly.
CtCondoNews will also provide examples where property managers and boards are doing super work providing services and cutting out the fat. It will identify best practices and share them.
The site is also important to those considering buying condos in Connecticut as well as those who want to become snowbirds and purchase vacation condos. The site will provide coverage of important issues in states like Florida, Arizona and Nevada. Timeshare issues will also receive close scrutiny.
The website, which is accessible through either CTCondoOwnersCoalition.com or CTCondoNews.com intends to foster a better understanding of the pros and cons of condo living, provide education through its partnership with the CT Condo Owners Coalition.
George Gombossy is the editor & publisher of CtCondoNews.com. A 43-veteran journalist, George is also a syndicated consumer columnist whose work appears weekly in the New Haven Register, New London Day, Torrington Register Citizen, New Britain Herald, Bristol Press, Middletown Press, West Hartford News, Canton News, Avon News, Simsbury News, Granby News, and Internet site ValleyNewsNow.
The Connecticut Condo Owners Coalition sought out a partnership with George in the spring of 2012 to deliver more public awareness about the issues that commonly occur in condo associations to the people.
George helped create CtCondoNews almost three years after he launched CtWatchdog.com, a consumer website. As he began investigating complaints by Ct condo owners he realized that there is very little information on the Internet that helps condo owners protect themselves against abusive boards of associations and board attorneys. There is also a lack of information for those thinking about buying a condo, about which associations have issues and which ones are well run. State laws do little to protect condo owners, unlike states like Florida, Nevada and Maryland, where the playing field has been leveled by legislative action. Until recently the only formal organization involved in condo issues represents the management companies and lawyers.
Prior to launching CtWatchdog in August 2009, George had spent 40 years at The Hartford Courant where he was the first investigative consumer columnist in the newspaper's history. Prior to the George was the newspapers business editor for 12 years, and spent the other years covering legal issues and leading teams of investigative reporters.
George teamed up with the Connecticut Condo Owners Coalition to help level the playing field for CT Condo owners. George owns three condos in West Hartford.
The CCOC has dedicated space on the left side of CtCondoNews. In this regard the CCOC's home will be part and parcel of CCN. The teaming of CCOC and CCN means that when people search for information on CT Condos in any regard, there is a clear understanding of what was written by the Coalition, what are columns written and or edited by George, and which ones were written jointly.
As part of the partnership between George and the CCOC, George will share a portion of his web site's revenue with the CCOC to be spent on protecting condo owners.
While George does not live in a condo, he owns condos in West Hartford and one in Florida.
George also co-owns CtTalking.com with radio personality Dan Lovallo.
George spent 40 years at The Courant, 12 as its business editor, 10 as legal reporter, and the rest of the time as an investigative reporter and team leader. He and his teams had been awarded dozens of awards, including the George Polk Award and the American Bar Association's Silver Gavel Award. He helped the paper win its first Pulitzer Prize. Under his direction The Courant won the SABEW Best in Business award for overall quality among midsize newspapers four times. He directed the work of two Gerald Loeb Award finalists and won the SABEW BiB award for his Watchdog column. The Courant nominated a minimum of five of his investigative series' for the Pulitzer.
Most recently The National Association Of Consumer Advocates gave Gombossy its highest journalistic award- the 2009 Media Award – for his 40 years of working on behalf of consumers and investors as a reporter, editor and columnist.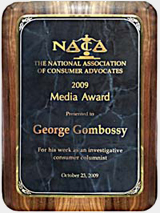 George is also a proud U.S. Army veteran, volunteering to serve during the Vietnam War. Born in Hungary, he came to the U.S. http://www.ctcondonews.com/about-ccn/ http://www.ctcondonews.com/about-ccn/in 1956 and has been ever grateful to this country for what it has given him and his family. Reach George at george@usawatchdog.me.